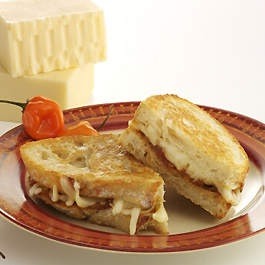 Courtesy of Wisconsin Milk Marketing Board
Servings: 4
Prep Time: 10 Min.
Cook Time: 8 Min.
* 1/4 c. tomato-based salsa
* 2 Tbsp. fire-roasted canned, diced green chilies, drained
* 1 tsp. taco seasoning mix
* 2 Tbsp. butter, softened
* 8 (1/2" thick) slices hearty artisan jalapeño or tomato bread
* 4 oz. (1 c.) Wisconsin queso Quesadilla Cheese, shredded

* You may substitute another Hispanic melting cheese such as Asadero or Monterey Jack
1. In a small bowl, combine salsa, chiles and taco seasoning; let stand 5 min. Butter one side of each slice of bread. Spread salsa mixture on the non-buttered side of 4 slices of bread; top with 1/4 c. cheese. Cover with remaining 4 slices of bread, buttered side out.
2. Place sandwiches on an electric griddle heated to 275ºF, or in a preheated skillet over medium heat. Cook 4 to 5 min. per side, or until bread is golden brown, and cheese is melted.