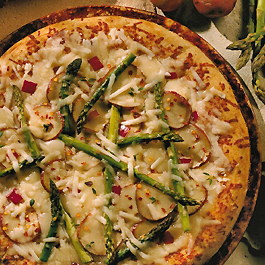 Courtesy of Wisconsin Milk Marketing Board
Servings: 8
Prep Time: 15 Min.
Cook Time: 18-20 Min.
* 1 (7 oz.) pkg. Limburger cheese, divided
* 1 (12 in.) pre-baked pizza crust
* 1 c. finely sliced potatoes
* 1/4 c. chopped red onion
* 6 stalks fresh asparagus, sliced in half, lengthwise
* 1 clove garlic, minced
* 1 Tbsp. fresh thyme or 1 tsp. dried thyme
* 1/4 tsp. salt
* 2 Tbsp. olive oil
* red pepper flakes, to taste
1. Preheat the oven to 425°F. Cut away 1/4 in. of rind from all sides of the cheese; discard the rind. Shred the remaining cheese.
2. Place the pizza crust on a pizza pan or large baking sheet. Sprinkle with 3/4 c. of the shredded cheese; set aside.
3. Combine the potatoes, onions, asparagus, garlic, thyme, and salt. Sprinkle the olive oil over the mixture and toss lightly. Spread the vegetables evenly over the pizza. Sprinkle the remaining 3/4 c. of shredded cheese over the vegetables. Bake for 18 to 20 min.