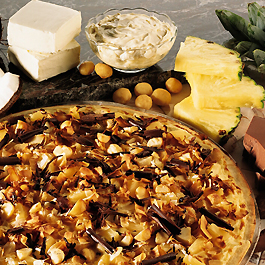 Courtesy of Wisconsin Milk Marketing Board
Servings: 4
Prep Time: 5 Min.
Cook Time: 12 Min.
* 1 pre-baked pizza crust (12")
* 1/2 c. macadamia nuts, chopped
* 2/3 c. flaked coconut, divided
* 1 egg
* 1/3 c. (3 oz.) Wisconsin Cream cheese, softened
* 1/3 c. (3 oz.) Wisconsin Mascarpone cheese
* 1/2 c. pineapple tidbits, drained
* 1 oz. chocolate, shaved or sprinkles
1. Place macadamia nuts and half the coconut on a baking pan. Bake at 450°F until lightly toasted; cool.
2. Blend eggs, remaining flaked coconut, cream cheese and Mascarpone. Spread cheese mixture over crust.
3. Arrange pineapple over top. Sprinkle toasted coconut and toasted macadamia nuts over top.
4. Bake at 450°F for 10 to 12 min. or until crust and top of pizza are lightly browned. After baking, top with shaved chocolate or chocolate sprinkles.