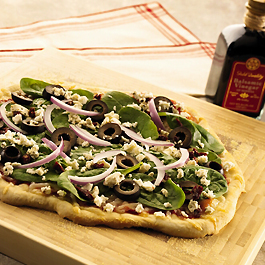 Courtesy of Wisconsin Milk Marketing Board
Servings: 4
Prep Time: 10 MIn.
Cook Time: 7 Min.
* 1/2 c. pizza sauce
* 1 (12-in) pre-baked pizza crust
* 3/4 c. (3 oz.) shredded aged provolone cheese
* 1/2 c. (2 oz.) shredded mozzarella cheese
* 20 to 25 fresh baby spinach leaves, cleaned
* 1/4 c. julienned red onion
* 3/4 c.(4 to 5 oz.) crumbled feta cheese with sun-dried tomatoes
* 1/3 c. sliced black olives
* 2 Tbsp. finely diced sun-dried tomatoes
* balsamic vinegar (optional), as needed
1. Place the pizza crust on a pizza pan or a large baking sheet. Spread the sauce on the pizza crust. Sprinkle the provolone and mozzarella on the sauce. Bake for 7 to 9 min. or until the crust is lightly browned. Remove from the oven.
2. Arrange the spinach leaves over the top of the pizza. Arrange the red onions over the spinach; sprinkle the feta cheese, black olives, and sun-dried tomatoes over the top. Mist the pizza with balsamic vinegar, if desired.

Tip: You may substitute another flavored feta cheese. Homemade pizza crust may be substituted, if desired. Prebake the crust for 5 to 10 min., then proceed with the recipe as written. If you prefer cooked onion, place the onion over the sauce prior to baking.