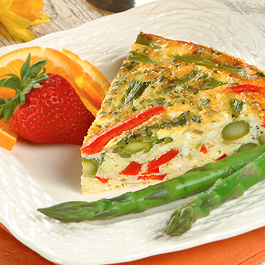 Courtesy of California Asparagus Commission
Servings: 6
Prep Time: 15 Min.
Cook Time: 45 Min.
* 1 lb. California asparagus, trimmed and blanched salt, as needed
* 1 red bell pepper, julienned
* 1/2 c. onion, chopped
* 2 Tbsp. olive oil
* 8 eggs, beaten
* 2 Tbsp. Italian parsley, chopped
* 1/4 tsp. salt
* 1/4 tsp. freshly ground pepper
* 4 oz. Feta cheese, crumbled (about 1 c.)
* 1 1/2 Tbsp. butter, softened
* lemon wedges sprigs of Italian parsley for garnish
1. Reserve 6 asparagus spears. Cut remaining asparagus at an angle into
1 in. pieces, reserve.
2. Sauté bell pepper in 2 Tbsp. olive oil until soft, but not browned, about 7 mins. Stir in onion and reserved asparagus pieces; sauté for 1 min. With a slotted spoon remove vegetables to drain on paper toweling, reserve.
3. Whisk chopped parsley, salt and pepper into beaten eggs. Stir in cheese and reserved sautéed vegetables.
4. Coat the inside of a heavy, non-stick 12 in. frying pan (with a cover) with softened butter. Pour egg mixture into pan. Bake in a preheated 350°F oven, covered, until eggs are just firm, about 35 mins. Remove cover; bake until top is lightly browned, about 10 mins.
5. Loosen the frittata, then cover pan with a large, warmed serving platter. Flip frying pan over onto platter. Cut frittata into 6 wedges; garnish each with 1 reserved asparagus spear. Divide wedges among 6 serving plates, then put a lemon wedge and a sprig of parsley on each plate.

Note:
Use a cheese planer or a potato peeler to shave cheese paper thin.
Calories: 270;
Calories From Fat: 180;
Total Fat: 20g;
Saturated Fat: 8g;
Cholesterol: 380mg;
Total Carbs: 6g;
Fiber: 1g;
Protein: 15g;
Sodium: 480mg;