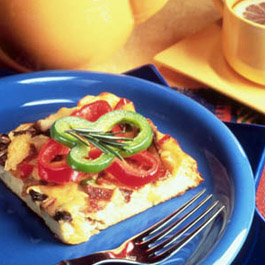 Courtesy of The incredible edible egg™
Serve With:
Grapefruit and coffee or tea.
Servings:
4
Prep Time:
5 Min.
Cook Time:
45 Min.
* 4 slices bread, crust trimmed
* 6 eggs
* 1 1/2 c. skim or low-fat milk
* 4 slices cooked turkey bacon, crumbled
* 1/4 c. cheddar cheese, shredded
* 1/4 c. Swiss cheese, shredded
* 1/3 c. mushrooms, sliced
* 1/4 tsp. salt
1. Across bottom of lightly greased 9"x9"x2" baking dish, arrange bread slices, slightly overlapping. Set aside.
2. In large bowl, beat together eggs, milk, bacon, 2 Tbsp. each of Swiss and Cheddar cheeses, mushrooms and salt, if desired.
3. Pour mixture over bread slices. Sprinkle remaining cheeses over egg mixture. Cover and refrigerate overnight.
4. Preheat oven to 350°F. Bake, uncovered, until lightly browned and knife inserted near center comes out clean, about 40 - 45 min.

"For more ways to enjoy The incredible edible egg™, visit incredibleegg.org"
Calories: 301;
Calories From Fat: 47;
Total Fat: 16g;
Saturated Fat: 6g;
Cholesterol: 346mg;
Total Carbs: 18g;
Fiber: 1g;
Protein: 21g;
Sodium: 667mg;