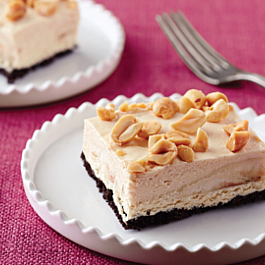 Courtesy of Kraft Kitchens
Servings: 12
Prep Time: 15 Min.
Cook Time: 10 Min.
Chill Time: 4 Hr.
* 15 chocolate wafer cookies, finely crushed
* 2 Tbsp. butter, melted
* 4 oz. (1/2 of 8-oz. pkg.) PHILADELPHIA Cream Cheese, softened
* 1/4 c. creamy peanut butter
* 2 Tbsp. milk
* 1 c. powdered sugar
* 1 c. thawed COOL WHIP Whipped Topping
* 2 small bananas
* 1/4 c. chopped PLANTERS Lightly Salted Dry Roasted Peanuts
1. Heat oven to 350°F.
2. Line 8-inch square pan with foil, with ends of foil extending over sides; spray with cooking spray. Mix wafer crumbs and butter; press onto bottom of prepared pan. Bake 8 to 10 min. or until crust is firm. Cool completely.
3. Beat cream cheese, peanut butter and milk in large bowl with mixer until blended. Gradually beat in sugar. Gently stir in COOL WHIP. Spread half the cream cheese mixture over crust.
4. Cut bananas lengthwise in half; place over cream cheese layer on crust. Cover with remaining cream cheese mixture. Sprinkle with nuts.
5. Freeze 4 hours or until firm. Remove dessert from freezer 20 min. before serving; let stand at room temperature to soften slightly. Use foil handles to remove dessert from pan before cutting into bars.