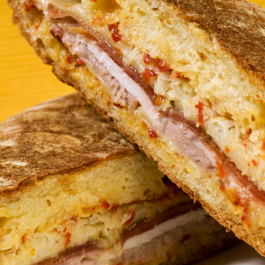 Courtesy of CanolaInfo
Servings: 8
Prep Time: 5 Min.
Cook Time: 4 Min.
* 1/2 c. sun-dried tomato canola mayonnaise
* 8 crusty rolls
* 1 lb. roast pork loin, sliced thin
* 1/4 lb. serrano ham, sliced paper thin
* 1/4 lb. Gruyère cheese
* 2 c. sauerkraut
* 2 Tbsp. canola oil
* clean brick, wrapped in foil
1. Preheat a stove top griddle over medium-high heat.
2. Spread the mayonnaise all over the rolls and place the pork, ham, cheese and sauerkraut on the bottoms. Press the sandwiches together.
3. Put about 1 tablespoon of canola oil on the hot griddle and spread to coat. Put 1 sandwich at a time on the griddle, and top with the brick. Toast sandwiches on the griddle, turning once, until golden, hot, and cheese is melted, 2 or 3 minutes per side.

* Recipe courtesy of Chef Instructor Brenda La Noue at The Culinary Institute of America and CanolaInfo.
Calories: 410;
Total Fat: 23g;
Saturated Fat: 5g;
Cholesterol: 75mg;
Total Carbs: 22g;
Fiber: 2g;
Sugar: 1g;
Protein: 27g;
Sodium: 760mg;