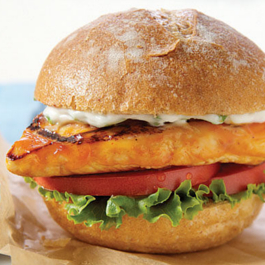 Courtesy of Kraft Kitchens
Servings: 4
Prep Time: 12 Min.
Cook Time: 10 Min.
* 1/4 c. KRAFT Real Mayo Mayonnaise
* 1/4 c. chopped green onions
* 4 small boneless skinless chicken breasts (1 lb.)
* 2 tsp. olive oil
* 1/2 c. BULL'S-EYE Raging Buffalo Barbecue Sauce
* 4 crusty sandwich rolls, partially split
* 4 leaf lettuce leaves
* 2 medium tomatoes, cut into 4 slices each
1. Preheat grill to medium-high heat. Mix mayo and onions; cover. Refrigerate until ready to serve. Brush chicken with oil.
2. Grill chicken 4 min. on each side. Brush lightly with barbecue sauce. Continue grilling 2 min. or until chicken is cooked through (170°F), turning and brushing occasionally with the remaining barbecue sauce.
3. Spread top halves of rolls with the mayo mixture. Place lettuce and tomato slices on bottom halves of rolls; cover with the chicken and tops of rolls.