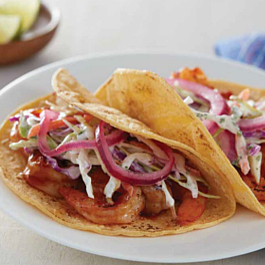 Courtesy of Kraft Kitchens
Servings: 6
Prep Time: 30 Min.
Cook Time: n/a
* 1 red onion, thinly sliced
* juice from 2 limes, divided
* 1 c. loosely packed fresh cilantro, chopped
* 1/2 c. KRAFT Real Mayo Mayonnaise
* 1 pkg. (16 oz.) coleslaw blend (cabbage slaw mix)
* 1 c. HEINZ BBQ Sauce Classic Sweet & Thick
* 2 Tbsp. chopped canned chipotle peppers in adobo sauce
* 1 1/2 lb. uncooked deveined peeled medium shrimp
* 12 corn tortillas (6 -in.)
1. Heat grill to medium-high heat.
2. Rinse onions under warm water; drain. Place in small bowl. Add half the lime juice; mix lightly.
3. Mix cilantro, mayo and remaining lime juice until blended. Add to coleslaw blend in large bowl; mix lightly.
4. Combine barbecue sauce and peppers. Thread shrimp onto
skewers. Grill 4 to 6 min. or until shrimp turn pink, turning and brushing frequently with barbecue sauce mixture. Remove shrimp from grill; set aside. Add tortillas to grill; cook 30 sec. on each side or just until warmed.
5. Remove shrimp from skewers; place on tortillas. Top with coleslaw and onion mixture; fold in half.
Calories: 420;
Total Fat: 16g;
Saturated Fat: 2g;
Cholesterol: 65mg;
Total Carbs: 58g;
Fiber: 7g;
Sugar: 26g;
Protein: 12g;
Sodium: 870mg;