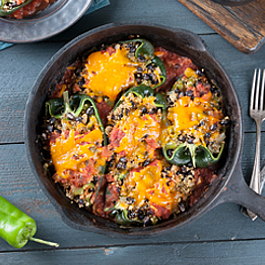 Courtesy of Wheat Foods Council
Servings: 8
Prep Time: 15 Min.
Cook Time: 1 Hr. 15 Min.
* 4 poblano chilies
* 1/2 c. reduced sodium chicken broth
* 1/2 c. uncooked bulgur
* 1 Tbsp. olive oil
* 1 c. chopped onion
* 3 garlic cloves, minced
* 1 (15-oz.) can no salt added black beans, drained and rinsed
* 1 (4-oz.) can chopped green chilies, undrained
* 2 tsp. cumin
* 3/4 c. shredded sharp cheddar cheese
* 2 c. prepared salsa
1. Preheat oven to 375°F.
2. Bring the broth to a boil in a medium saucepan; gradually stir in bulgur. Remove from heat; cover and let stand for 30 minutes.
3. Cut poblanos in half and remove stems and seeds.
4. Heat a large nonstick skillet over medium-high heat. Add oil to pan; swirl to coat. Add onion and garlic; sauté for 5 minutes or until onion is lightly browned. Add beans, green chilies and cumin. Bring to a boil, reduce heat and simmer 10 minutes until thickened, stirring occasionally. Remove from heat; let stand 5 minutes. Stir in cooked bulgur.
5. Place salsa in 13 X 9 inch baking dish; put chilies in baking dish. Divide bean mixture evenly among chili halves. Cover and bake at 375° for 30 minutes. Sprinkle cheese over chilies and spoon some of the salsa over chilies; bake an additional 15 minutes. Let stand covered 10 minutes before serving.
Calories: 173;
Total Fat: 6g;
Saturated Fat: 2g;
Cholesterol: 11mg;
Total Carbs: 24g;
Fiber: 8g;
Protein: 8g;
Sodium: 687mg;