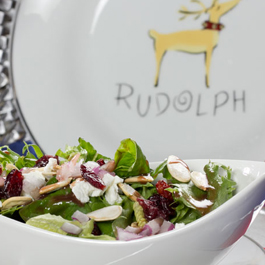 Courtesy of Mr. Food Test Kitchen
Servings: 5
Prep Time: 10 Min.
Cook Time: n/a
* 1 (5-ounce) package mixed baby greens
* 1/2 c. dried cranberries
* 1/2 c. roasted pumpkin seeds
* 1/4 c. diced red onion
* 1/2 c. crumbled goat cheese
* 1/2 c. seedless raspberry jam or preserves
* 2 Tbsp. balsamic vinegar
* 2 Tbsp. Dijon mustard
* 1/4 tsp. black pepper
* 1/4 c. olive oil
* 2 Tbsp. water
1. In a large bowl, combine greens, cranberries, pumpkin seeds, red onion, and goat cheese.
2. In a medium bowl, whisk together jam, vinegar, mustard, and pepper until thoroughly combined. Whisk in oil, then water.
3. Just before serving, drizzle 1/4 cup dressing over salad and toss until evenly coated, adding more dressing as desired. Cover and refrigerate any remaining dressing.

Recipe and Image from the Mr. Food Test Kitchen
© 2018 Ginsburg Enterprises Incorporated. All rights reserved.