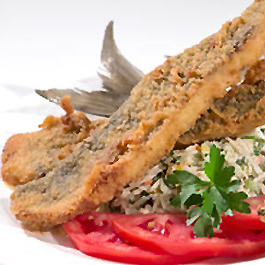 Courtesy of Florida Agriculture Bureau of Seafood & Aquaculture
Servings: n/a
Prep Time: 10 Min.
Cook Time: 5 Min.
* 4 6-oz. mullet fillets
* canola oil for frying
* 1 large egg
* 1 tsp. water
* 1/2 c. all-purpose flour
* 1/2 c. cornmeal
* 1/4 tsp. cayenne pepper
* 1/2 tsp. salt
* 1/2 tsp. pepper
* 2 lemons, sliced for garnish
* Cabbage and Citrus Slaw (see below)
1. Heat oil to 375°F in deep fryer or deep saucepan. Whisk together egg and water in a shallow dish. Combine flour, cornmeal, cayenne, salt and pepper; mix well.
2. Dip fillets into egg wash then into flour mixture to coat. Deep fry fish in hot oil for 4-5 min. until fish is golden brown. Drain on absorbent paper and serve with lemon slices and Cabbage and Citrus Slaw.

Cabbage and Citrus Slaw
* 1/2 large head cabbage, shredded fine
* 2 oranges, segmented
* 1 grapefruit, segmented
* 1/4 cup cilantro, finely chopped
* 1/2 red bell pepper, sliced thin
* 1/4 cup olive oil
* 2 lemons, juiced
* sea salt to taste
* fresh ground pepper to taste

1. In a large bowl, combine all ingredients, mix well and let marinate in refrigerator for an hour.
2. Taste slaw and adjust seasoning with salt and pepper. Serve chilled.

* Recipe Courtesy of Florida Department of Agriculture Bureau of Seafood and Aquaculture.