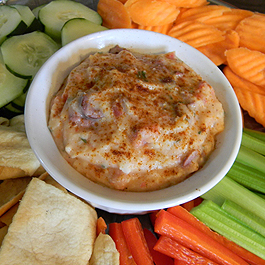 Courtesy of Idaho Potato Commission
Servings: 6
Prep Time: 10 Min.
Cook Time: 5 Min.
* 1-1/2 c. water
* 1 Tbsp. minced garlic
* 1/2 c. instant Idaho® potato flakes
* 1 1/2 Tbsp. tahini
* 2 Tbsp. lemon juice
* 1 Tbsp. extra virgin olive oil
* 2 Tbsp. finely chopped sun-dried tomatoes
* 1/2 tsp. salt
* 1/4 tsp. black pepper
* 2 Tbsp. Parmesan cheese, preferably freshly grated (1/2 oz.)
* 2 Tbsp. finely chopped kalamata olives
* 1 Tbsp. chopped fresh parsley, preferably Italian flat leave
* 1/4 tsp. paprika, garnish
1. Bring water and garlic to boil in a medium saucepan over high heat. Whisk in potato flakes, reduce to low heat, and cook 3 min., stirring frequently. Remove from heat, stir in tahini, lemon juice, oil, tomatoes, salt and pepper. Cool to room temperature.
2. Stir in remaining ingredients, except paprika. Spoon into serving dish and sprinkle with paprika.

* This recipe was created by Deborah Arrieta of Kennesaw, GA and received an Honorable Mention in the IPC's 2010 Watching Waistlines and Wallets Recipe Contest.
Calories: 160;
Total Fat: 6g;
Saturated Fat: 1g;
Cholesterol: 5mg;
Total Carbs: 22g;
Fiber: 3g;
Protein: 5g;
Sodium: 310mg;