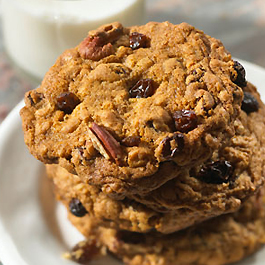 Courtesy of California Raisin Marketing Board
Servings: 40
Prep Time: 15 Min.
Cook Time: 15 Min.
* 2 c. butter, softened
* 2 c. white sugar
* 1 c. light brown sugar
* 2 tsp. vanilla
* 2 large eggs
* 3 c. all-purpose flour
* 2 tsp. baking soda
* 2 tsp. cinnamon
* 3 c. rolled oats
* 2 c. California raisins
* 2 c. pecan halves
1. Preheat oven to 350°F. Grease cookie sheets or line with parchment paper; set aside.
2. In a large bowl, cream butter, sugars and vanilla together until light and fluffy and sugar is completely dissolved. Add eggs, one at a time, beating well with each addition.
3. Combine flour, baking soda and cinnamon; mix well and gradually stir into creamed mixture. Fold in rolled oats, raisins and pecans.
4. Drop by rounded tablespoonfuls onto prepared cookie sheets. Bake for 12-15 min. in preheated oven at 350°F. Remove cookies to a wire rack and cool completely.

* Visit www.loveyourraisins.com/recipes/ for more raisin recipes!
Calories: 260;
Total Fat: 14g;
Saturated Fat: 6g;
Cholesterol: 35mg;
Total Carbs: 34g;
Fiber: 2g;
Sugar: 21g;
Protein: 3g;
Sodium: 160mg;
Potassium: 140mg;