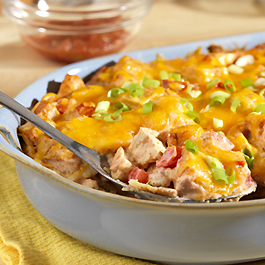 Courtesy of Campbell's® Kitchen
Servings: 8
Prep Time: 15 Min.
Cook Time: 40 Min.
* 1 can (10-3/4 oz.) Campbell's® Condensed Cream of Mushroom Soup (Regular or 98% Fat Free)
* 3/4 c. Pace® Picante Sauce
* 3/4 c. sour cream
* 1 Tbsp. chili powder
* 2 medium tomatoes, chopped (about 2 c.)
* 3 c. cubed cooked chicken or turkey
* 12 corn tortillas (6-in.), cut into 1-in. pieces
* 1 c. shredded Cheddar cheese (about 4 oz.)
* sliced green onion
1. Stir the soup, picante sauce, sour cream, chili powder, tomatoes and chicken in a medium bowl.
2. Place half the tortillas in a 2-qt. shallow baking dish. Top with half the chicken mixture. Repeat the layers. Sprinkle with the cheese.
3. Bake at 350°F for 40 min. or until the mixture is hot and bubbling. Sprinkle with the green onion. Serve with additional picante sauce and sour cream.
Calories: 337;
Total Fat: 16g;
Saturated Fat: 7g;
Cholesterol: 74mg;
Total Carbs: 26g;
Fiber: 5g;
Protein: 22g;
Sodium: 635mg;