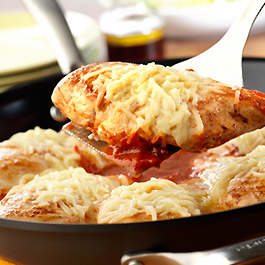 Courtesy of Campbell's® Kitchen
Servings: 6
Prep Time: 5 Min.
Cook Time: 25 Min.
* 1 Tbsp. olive oil
* 6 skinless, boneless chicken breast halves (about 1-1/2 lbs.)
* 1-1/2 c. Prego® Traditional Italian Sauce
* 1/4 c. grated Parmesan cheese
* 1-1/2 c. shredded mozzarella cheese (about 6 oz.)
1. Heat the oil in a 12-in. skillet over medium-high heat. Add the chicken and cook for 10 min. or until well browned on both sides.
2. Stir the sauce and 3 Tbsp. Parmesan cheese in the skillet. Reduce the heat to low. Cover and cook for 10 min. or until the chicken is cooked through.
3. Sprinkle with the mozzarella and remaining Parmesan cheese. Let stand for 5 min. or until the cheese is melted.
Calories: 287;
Total Fat: 13g;
Saturated Fat: 5g;
Cholesterol: 85mg;
Total Carbs: 8g;
Fiber: 2g;
Protein: 34g;
Sodium: 511mg;