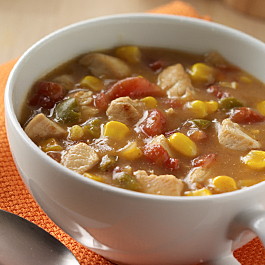 Courtesy of VELVEETA® and RO*TEL®
Servings: 4
Prep Time: 15 Min.
Cook Time: 15 Min.
* 2 Tbsp. FLEISCHMANN'S® Made with Olive Oil Spread
* 1 lb. boneless skinless chicken breast,cut into small pieces
* 1 c. chopped onion
* 1 tsp. ground cumin
* 1 can (10-3/4 oz. ea.) reduced sodium condensed cream of chicken soup
* 1 can (10 oz. ea.) RO*TEL® Original Diced Tomatoes & Green Chiles, undrained
* 1 c. frozen whole kernel corn
* 1/2 c. water
1. Melt FLEISCHMANN'S® in large saucepan or Dutch oven over medium-high heat. Add chicken and onion; cook 4 to 5 min. or until chicken is no longer pink and onion is tender, stirring frequently.
2. Add cumin; cook and stir 1 min. Add condensed soup, RO*TEL® tomatoes, corn and water. Increase heat to high, cover and bring to a boil. Reduce heat to medium-low; simmer 10 min.
Calories: 610;
Total Fat: 9g;
Saturated Fat: 2g;
Total Carbs: 22g;
Fiber: 3g;
Sugar: 6g;
Protein: 30g;
Sodium: 645mg;