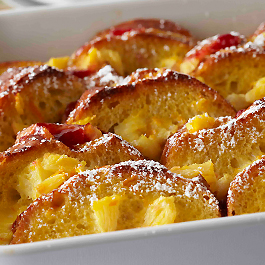 Courtesy of The incredible edible egg™
Servings: 8
Prep Time: 20 Min.
Cook Time: 45 Min.
Chill Time: 1 Hr.
* 30-36 thin French bread or baguette slices,1/2-in. slices (12-oz.)
* 4 oz. cream cheese, softened
* 1 c. strawberry preserves
* 8 eggs
* 1-1/2 c. milk
* 1 can (8 oz.) crushed pineapple, undrained
* 1/4 c. orange juice
* 2 tsp. freshly grated orange peel
* 1 tsp. vanilla
* 1/2 tsp. salt
1. Heat oven to 350°F.
2. Spread 1/2 of the bread slices with cream cheese and strawberry preserves and top with remaining bread slices to make little sandwiches. Arrange sandwiches in greased 13 x 9-in. glass baking dish.
3. Whisk eggs in medium bowl until foamy. Stir in milk, pineapple, orange juice, orange peel, vanilla and salt. Slowly pour egg mixture over bread; press bread into egg mixture. Cover and refrigerate at least 1hr. or overnight.
4. Bake in center of 350°F oven until puffed, golden and knife inserted near centers comes out clean, about 45 to 50 min.

* "For more ways to enjoy The incredible edible egg™, visit incredibleegg.org"
Calories: 389;
Total Fat: 11g;
Saturated Fat: 5g;
Cholesterol: 205mg;
Total Carbs: 59g;
Fiber: 1g;
Protein: 14g;
Sodium: 560mg;