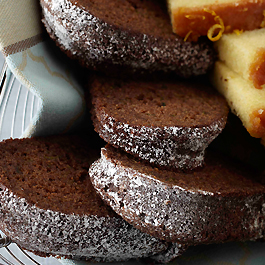 Courtesy of The incredible edible egg™
Servings: 12
Prep Time: 15 Min.
Cook Time: 60-70 Min.
* 2-1/4 c. all-purpose flour
* 1/4 c. unsweetened cocoa
* 2-1/2 tsp. baking powder
* 1-1/2 tsp. baking soda
* 1 tsp. ground cinnamon
* 1 tsp. salt
* 1 c. sugar
* 1/2 c. butter, softened
* 3/4 c. applesauce
* 4 eggs
* 1 Tbsp. vanilla
* 2 c. shredded zucchini (about 2 small, 10 oz.)
* powdered sugar
1. Heat oven to 350°F. Coat bottom and sides of 9-to 12-cup fluted tube pan with cooking spray.
2. Combine flour, cocoa, baking powder, baking soda, cinnamon and salt into medium bowl.
3. Beat sugar and butter in mixer bowl on medium speed until light and fluffy. Beat in applesauce, eggs and vanilla. Reduce speed to low. Add dry ingredients; beat until blended. Gently stir in zucchini.
4. Pour batter into prepared pan. Bake in 350°F oven until wooden pick inserted in center comes out clean, 60 to 70 min. Cool on wire rack for 10 min. Loosen cake from sides of pans with thin knife. Gently shake cake from pan onto serving plate. Dust with powdered sugar.

* "For more ways to enjoy The incredible edible egg™, visit incredibleegg.org"
Calories: 265;
Total Fat: 10g;
Saturated Fat: 6g;
Cholesterol: 82mg;
Total Carbs: 40g;
Fiber: 2g;
Protein: 5g;
Sodium: 459mg;