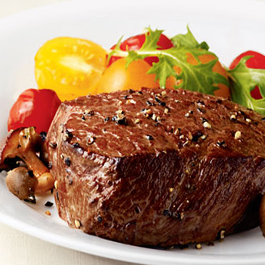 Courtesy of The Beef Checkoff
Servings: 4
Prep Time: 10 Min.
Cook Time: 15 Min.
* 4 beef tenderloin (filet) steaks, cut 1-in. thick
* 1 Tbsp. olive oil
* 3 tsp. minced garlic, divided
* 1 tsp. chopped fresh thyme
* 3 c. assorted wild mushrooms (such as cremini, oyster, shiitake, enoki or morel)
* 2 c. red and/or yellow cherry tomatoes, cut in half
* 2 Tbsp. champagne or white wine vinaigrette
* salt and pepper
* 1/2 c. mixed baby salad greens
1. Heat oil in large nonstick skillet over medium heat until hot. Add mushrooms and 1 tsp. garlic; cook and stir 2-4 min. or until mushrooms are tender and browned. Remove to medium bowl; cool slightly.
2. Meanwhile, combine remaining 2 tsp. garlic and thyme. Press evenly onto beef steaks. Place steaks in same skillet over medium heat; cook 10-13 min. for medium rare (145°F) to medium (160°F) doneness, turning occasionally. Remove to platter.
3. Add tomatoes, salad greens and vinaigrette to mushrooms; toss lightly to coat.
4. Season steaks with salt and pepper, as desired. Serve with salad.

* Recipe Courtesy of The Beef Checkoff.
Calories: 272;
Total Fat: 14g;
Saturated Fat: 3g;
Cholesterol: 67mg;
Total Carbs: 8g;
Fiber: 2g;
Protein: 27g;
Sodium: 182mg;