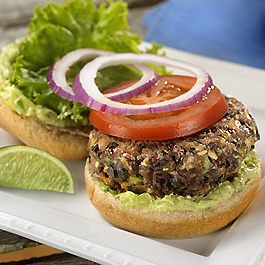 Courtesy of CanolaInfo
Servings: 4
Prep Time: 20 Min.
Cook Time: 8 Min.
Mayonnaise:
* 1/2 ripe medium avocado, peeled and pitted
* 2 Tbsp. canola mayonnaise (30 mL)
* 1 Tbsp. fresh lime juice (15 mL)
* 1 Tbsp. water (15 mL)
* 1/4 c. chopped fresh cilantro leaves (60 mL)

Burgers:
* 1 can (15 oz.) black beans, rinsed and drained
* 1/2 of 15 oz. can red kidney beans, rinsed and drained
* 1/2 c. finely chopped green bell pepper (125 mL)
* 1/3 c. quick cooking oats (75 mL)
* 2 large egg whites
* 1 Tbsp. canola oil (15 mL)
* 1/8-1/4 tsp. cayenne pepper (.5 -1 mL)
* canola oil cooking spray
* 4 whole-wheat hamburger buns, split and toasted
* 1/4 c. thinly sliced red onion (60 mL)
* 4 lettuce leaves
* 4 lime wedges
1. Place canola mayonnaise ingredients in a blender, secure lid, and puree until smooth.
2. Place beans in a gallon-size resealable bag. Using a meat mallet, pound beans to a coarse texture, resembling lumpy mashed potatoes. Place beans in a medium bowl and add bell pepper, oats, egg whites, canola oil, and cayenne pepper. Mix well and shape into four patties.
3. Coat a large nonstick skillet with canola oil cooking spray and heat over medium heat. Add patties and cook 4 min. on each side or until they begin to lightly brown. The patties will be fragile, so be sure to turn them gently.
4. To assemble, spoon 1 Tbsp. (15 mL) canola mayonnaise mixture on each bun half. Top each bottom bun with burger, onion, a tomato slice, and a lettuce leaf. Place bun tops over each. Serve with lime wedges.

Yield: 4 servings. Serving size: 1 burger.

Fresh tip: If desired, omit the buns and serve the patties on the lettuce leaf, tomato slice, and onion. Spoon the mayonnaise mixture on top of the patties and serve with lime wedges.

Recipes courtesy of "The Heart-Smart Diabetes Kitchen: Fresh, Fast Flavorful Recipes Made with Canola Oil" from the American Diabetes Association and CanolaInfo, copyright 2009. Photo by Taran Z.@2009 from "The Heart-Smart Diabetes Kitchen."
Calories: 300;
Total Fat: 12g;
Cholesterol: 0mg;
Fiber: 10g;
Protein: 19g;
Sodium: 785mg;