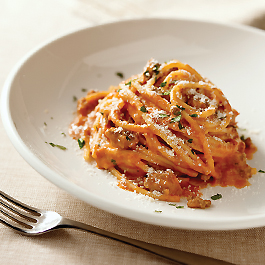 Courtesy of Kraft Kitchens
Servings: 4
Prep Time: 10 Min.
Cook Time: 15 Min.
* 1/2 lb. spaghetti, uncooked
* 1 lb. extra-lean ground beef
* 1 jar (24 oz.) CLASSICO FAMILY FAVORITES Traditional Pasta Sauce
* 4 oz. (1/2 of 8-oz. pkg.) PHILADELPHIA Cream Cheese, cubed
* 2 Tbsp. KRAFT Grated Parmesan Cheese
1. Cook spaghetti as directed on package, omitting salt.
2. Meanwhile, brown meat in large skillet. Stir in sauce and cream cheese; cook on low heat 3 to 5 min. or until sauce is blended and heated through, stirring frequently.
3. Drain spaghetti. Add to sauce; mix lightly. Place on platter; top with Parmesan.

* Special Extras: Cook 1 cup each chopped bell peppers and onions with the ground beef.

* Sprinkle with chopped fresh basil or parsley before serving.

* Variation: Prepare using PHILADELPHIA Neufchatel Cheese.