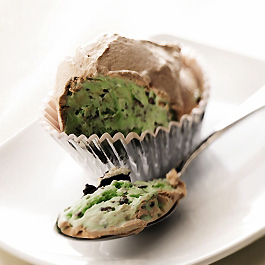 Courtesy of Wisconsin Milk Marketing Board
Servings: 12
Prep Time: 20 Min.
Cook Time: n/a
Chill Time: 60 Min.
* 12 chocolate sandwich cookies*
* mint chocolate chip ice cream
* 1 c. whipping cream
* 1 Tbsp. cocoa powder
* 1 Tbsp. powdered sugar
* paper cupcake liners
* muffin tin


1. Place 12 paper cupcake liners in muffin tin. Crumble one cookie in each cupcake liner.
2. Place scoop of ice cream in each liner. Freeze until solid.
3. Meanwhile, whip cream until slightly thickened, add cocoa and powdered sugar; continue whipping until soft peaks form.
4. Frost each cupcake with cocoa whipped cream. Freeze until ready to serve. Place extra cupcakes in airtight container; store in freezer up to one week.

* For fruit cupcake, try crushed shortbread cookies with fresh strawberries, homemade strawberry ice cream and honey whipped cream. To make honey whipped cream, omit cocoa and powdered sugar; substitute 1 Tbsp. honey; prepare as above.