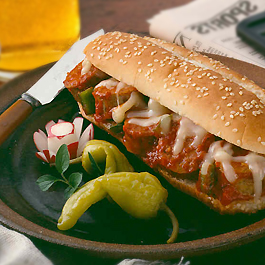 Courtesy of National Turkey Federation
Servings: 6
Prep Time: 10 Min.
Cook Time: 20 Min.
* 1 lb. hot Italian turkey sausage links, cut into 1/2-3/4 in. thick rounds
* 1/2 c. green pepper, cut into 1/2 in. cubes
* 12 oz. pizza sauce
* 6 (8 in.) French-style rolls, split lengthwise and lightly toasted
* 6 Tbsp. shredded Mozzarella cheese
1. In a large heavy skillet, over medium heat, stir-fry turkey sausage 5 to 6 min. or until the internal temperature registers 165°F. Remove from skillet.
2. Add peppers to skillet and stir-fry until soft.
3. Stir in pizza sauce. Return sausage to skillet and heat until sauce bubbles and all ingredients are hot.
4. Spoon 1/2 c. turkey mixture into bottom half of each toasted roll and sprinkle with 1 Tbsp. of cheese. Serve immediately.
Calories: 463;
Total Fat: 14g;
Cholesterol: 71mg;
Total Carbs: 60g;
Protein: 24g;
Sodium: 1245mg;