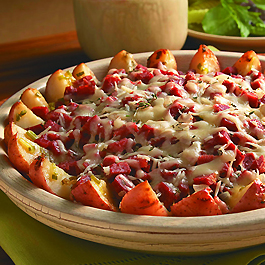 Courtesy of The Beef Checkoff
Servings: 4
Prep Time: 15 Min.
Cook Time: 35 Min.
* 12 oz. corned beef brisket, coarsely chopped
* 1 Tbsp. butter
* 1/2 c. chopped onions
* 2 tsp. chopped fresh thyme
* 2 Tbsp. horseradish-butter mixture (see below)
* 1 c. Swiss cheese, shredded
* 1/4 c. parmesan cheese, grated
* 2 c. cooked red potatoes, cut in half, then wedges

Horseradish-Butter Mixture:
* 1-1/2 Tbsp. butter, softened
* 1/4 c. green onions, chopped
* 2 Tbsp. horseradish
* salt and pepper to taste
1. For Horseradish -Butter Sauce: Place 1-1/2 Tbsp. butter, green onions, horseradish, ground pepper and salt in glass measuring cup. Microwave on HIGH 1-2 min. or until butter melts; mix well. Set aside.
2. For Corned Beef and Potato: Heat oven to 375°F. Melt 2 tsp. butter in large nonstick skillet over medium heat. Add onion and thyme; cook and stir 3-4 min. or until onion is tender. Remove from heat; stir in corned beef and horseradish-butter mixture.
3. Meanwhile, coat bottom and sides of 9-in. glass pie plate with remaining 1 tsp. butter; set aside.
4. Cut each potato half into 4 wedges. Arrange 1/2 of potato wedges in single layer over bottom of pie plate; stick remaining potato wedges upright around the edge of the pie plate. Combine cheeses in small bowl. Sprinkle potatoes with 1/2 of cheese mixture. Top with corned beef mixture and remaining cheese mixture. Press firmly with spatula to compact layers; cover with aluminum foil.
3. Bake in 375°F oven 25-30 min. or until heated through. Uncover; continue baking 3-5 min. or until cheese is melted and edges begin to brown. Let stand 5 min. Cut into wedges.

* This recipe is an excellent source of protein, vitamin B12, selenium and zinc; and a good source of niacin, vitamin B6 and iron.

* Recipe Courtesy of The Beef Checkoff.
Calories: 445;
Total Fat: 28g;
Saturated Fat: 13g;
Cholesterol: 121mg;
Total Carbs: 121g;
Fiber: 1g;
Protein: 27g;
Sodium: 1130mg;