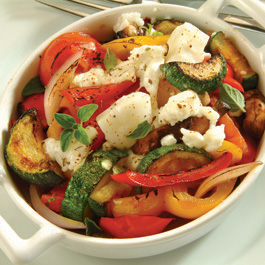 Courtesy of EnLITEned Kosher Cooking
Servings: 4
Prep Time: 10 Min.
Cook Time: 40 Min.
* 2 c. zucchini, washed and sliced
* 1 each green, yellow, and red bell pepper, seeded and cut into thin strips
* 1 small tomato, cut into wedges
* 1 small onion, sliced and separated into rings
* 1/2 c. fresh mushrooms, sliced
* 1 Tbsp. olive oil
* 1 Tbsp. oregano, crumbled
* non-stick cooking spray
* 4 oz. low-fat feta cheese
* salt and pepper, to taste
1. Preheat oven to 350°F. Arrange vegetables in a small baking dish that has been lined with baking paper and sprayed with non-stick cooking spray.
2. Combine oil, oregano, salt and pepper, and brush vegetables with this mixture. Spray with additional non stick spray.
3. Cover the dish with aluminum foil and bake for 30-40 min. or until vegetables soft.
4. Remove foil, sprinkle crumbled feta cheese on top and brown under broiler for 4 more min.

* Nutritional information does not include suggested side dishes

Serving size: 1 3/4 c.
Exchanges: Free vegetable 1/2 Medium-fat protein 1

Excerpt from EnLITEned Kosher Cooking by Nechama Cohen with permission from Feldheim Publishers. For more information contact www.feldheim.com. For more information on diabetes contact www.jewishdiabetes.org.
Calories: 95;
Calories From Fat: 38;
Total Fat: 4g;
Saturated Fat: 1g;
Cholesterol: 5mg;
Total Carbs: 4g;
Fiber: 3g;
Protein: 7g;
Sodium: 333mg;