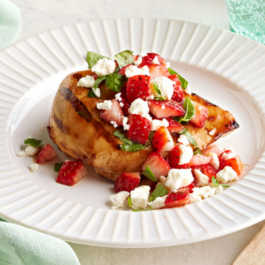 Courtesy of Kraft Kitchens
Servings: 4
Prep Time: 25 Min.
Cook Time: 30 Min.
* 1/2 c. KRAFT Balsamic Vinaigrette Dressing, divided
* 4 small boneless skinless chicken breasts (1 lb.)
* 2 c. small strawberries, chopped
* 1/2 c. ATHENOS Traditional Crumbled Feta Cheese
* 2 Tbsp. chopped fresh basil
1. Pour 1/4 c. dressing over chicken in shallow dish; turn to evenly coat both sides of each breast with dressing. Refrigerate 30 min. to marinate. Meanwhile, combine strawberries and remaining dressing. Refrigerate until ready to use.
2. Heat grill to medium heat. Remove chicken from marinade; discard marinade. Grill chicken 6 to 8 min. on each side or until done (165ºF).
3. Transfer chicken to platter; sprinkle with cheese and basil. Serve with strawberry salsa.