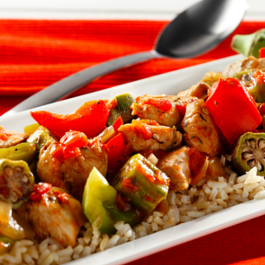 Courtesy of CanolaInfo
Servings: 4
Prep Time: 15 Min.
Cook Time: 28 Min.
* 2 Tbsp. canola oil (30 mL)
* 12 oz. boneless, skinless chicken breast meat, cut into bite-size pieces (350 g)
* 1 c. diced onions (250 mL)
* 1 medium green bell pepper, seeded and cut into 1-in. (2.5 cm) pieces
* 1 medium red bell pepper, seeded and cut into 1-in. (2.5 cm) pieces
* 2 medium garlic cloves, minced
* 6 oz. fresh or frozen and thawed okra, cut into 1/2-in. (1 cm) slices (170 g)
* 1 can (14.5 oz./428 mL) no-salt- added stewed tomatoes
* 1 1/2 tsp. dried thyme leaves (7 mL)
* 1/4 c. finely chopped parsley or green onion (60 mL)
* 2 tsp. Louisiana hot sauce (10 mL)
* 1/2 tsp. salt (2 mL)
* 2 c. cooked brown rice (500 mL)
1. In a large skillet, heat 1 Tbsp. (15 mL) canola oil over medium-high heat. Cook chicken 3 minutes or until slightly pink in center, stirring occasionally. Set aside on separate plate.
2. Heat remaining 1 Tbsp. (15 mL) canola oil and cook onions and peppers for 4 minutes or until vegetables begin to lightly brown on edges. Stir in garlic and cook 15 seconds, stirring constantly. Stir in okra, tomatoes, thyme, and chicken. Bring to a boil over medium-high heat. Reduce heat to medium-low, cover and simmer 20 minutes or until vegetables are just tender. Remove from heat.
3. Stir in parsley, hot sauce and salt. Cover and let stand 5 minutes to absorb flavors.
4. Meanwhile, prepare rice according to package directions. Serve the chicken mixture over rice.

* Recipe courtesy of Nancy Hughes, cookbook author, Mobile Ala. and CanolaInfo.
Calories: 340;
Total Fat: 10g;
Saturated Fat: 1g;
Cholesterol: 45mg;
Total Carbs: 39g;
Fiber: 6g;
Sugar: 8g;
Protein: 23g;
Sodium: 420mg;