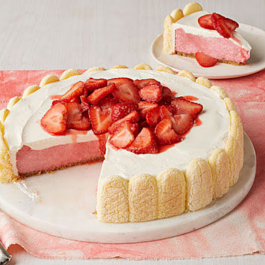 Courtesy of Kraft Kitchens
Servings: 16
Prep Time: 30 Min.
Cook Time: 53 Min.
Chill Time: 4 Hr.
* 24 square shortbread cookies, finely crushed (about 1-1/2 c.)
* 3 Tbsp. butter, melted
* 4 c. strawberries, divided
* 3/4 c. plus 2 Tbsp. sugar, divided
* 4 pkg. (8 oz. each) PHILADELPHIA Cream Cheese, softened, divided
* 5 drops red food coloring
* 3 eggs
* 1 tsp. vanilla
* 1 tub (8 oz.) COOL WHIP Whipped Topping, thawed
* 13 soft ladyfingers, split, halved crosswise
1. Heat oven to 350ºF.
2. Combine cookie crumbs and butter; press onto bottom of 9-inch springform pan. Bake 8 min.; cool.
3. Blend 2 cups strawberries and 1 Tbsp. sugar in blender until smooth. (You should have about 1 cup strawberry purée.)
4. Beat 3 pkg. cream cheese and 1/2 cup of the remaining sugar in large bowl with mixer until blended. Add strawberry purée and food coloring; mix well. Add eggs, 1 at a time, mixing on low speed after each just until blended. Pour over crust.
5. Bake 45 to 55 min. or until center is almost set. Run knife around rim of pan to loosen cheesecake; cool cheesecake completely.
6. Beat remaining cream cheese, 1/4 cup of the remaining sugar and vanilla in large bowl with mixer until blended. Gently stir in COOL WHIP. Reserve 2/3 cup cream cheese mixture; spread remaining over top of cheesecake. Refrigerate cheesecake and reserved cream cheese mixture (separately) 4 hours.
7. Remove rim of pan just before serving cheesecake. Spread reserved cream cheese mixture around side of cheesecake. Press ladyfinger halves, flat sides down and rounded sides out, into cream cheese mixture as shown in photo. Slice remaining strawberries; toss with remaining sugar. Spoon over cheesecake.