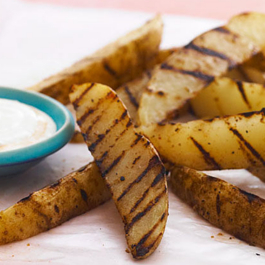 Courtesy of Kraft Kitchens
Servings: 4
Prep Time: 10 Min.
Cook Time: 11 Min.
Chill Time: 5 Min.
* 2 large baking potatoes (1-1/2 lb.)
* 1/4 c. KRAFT Tuscan House Italian Dressing, divided
* 1/4 c. KRAFT ROKA Blue Cheese Dressing
* 1/2 tsp. hot pepper sauce
1. Heat grill to medium heat.
2. Prick potatoes in several places with fork or sharp knife. Microwave on HIGH 5 min. Cool 5 min. Cut each potato lengthwise in half, then cut each piece into 4 lengthwise wedges. Brush evenly with 2 Tbsp. Italian dressing.
3. Grill 3 to 4 min. on each side or until tender, brushing occasionally with remaining Italian dressing.
4. Mix remaining ingredients. Serve with potatoes.