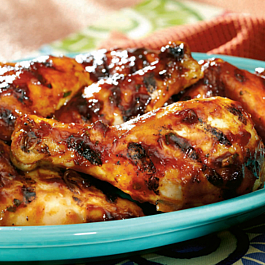 Courtesy of Kraft Kitchens
Servings: 5
Prep Time: 10 Min.
Cook Time: 30 Min.
* 1 broiler-fryer chicken (3 lb.), cut up
* 1/2 c. HEINZ® Barbecue Sauce Memphis Sweet & Spicy
* 2 Tbsp. orange juice
* 1/4 tsp. garlic powder
1. Heat grill to medium heat.
2. Trim and discard excess fat from chicken. Mix barbecue sauce with
remaining ingredients.
3. Grill chicken 10 min. on each side. Brush with half the barbecue sauce; grill 10 min. or until chicken is done (165°F), turning and brushing occasionally with remaining sauce.