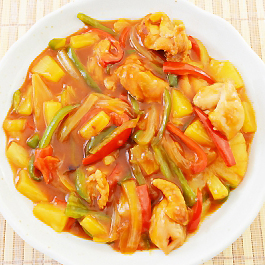 Courtesy of Gluten Intolerance Group
Servings: 4
Prep Time: n/a
Cook Time: n/a
* 1 lb. pork, cut in 1-in. cubes
* 6 carrots, cut into 2-in. long strips
* 1 onion, cut into 2-in. long strips
* 1 green pepper, cut into 2-in. long strips
* 1 c. gluten-free sweet and sour sauce
* 8 oz. can pineapple chunks, drained

TEMPURA BATTER:
* 1 c. rice flour blend
* 2 tsp. baking powder
* 1/4 tsp. salt
* 2 eggs
* 1/3 c. milk
* 2 Tbsp. vegetable oil
* vegetable oil for frying
1. Microwave, fry or boil pork cubes until just cooked through.
2. Combine flour, baking powder, and salt in a medium bowl. Combine eggs, milk, and oil separately and then stir into dry ingredients and mix until smooth.
3. Toss pork into batter to coat. Fry battered pork in a deep fat fryer or in a deep skillet with 1 to 3 inches of vegetable oil.
4. Cook carrots with a little water in covered skillet for 5 minutes. Add onions. Cook uncovered 3 minutes. Add green peppers and sweet and sour sauce. Cook uncovered 2 minutes. Add drained pineapple. Heat to cook through. Serve pork and vegetables with 4 cups cooked rice.

* Courtesy of: Gluten Intolerance Group
Visit www.gluten.org to learn more about gluten intolerance.