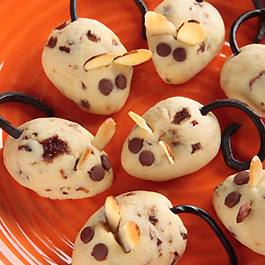 Courtesy of California Raisin Marketing Board
Servings: 24
Prep Time: 35 Min.
Cook Time: 20 Min.
Chill Time: 2 Hr.
* 3 c. all-purpose flour
* 1/2 tsp. salt
* 1 c. (2 sticks) unsalted butter
* 3/4 c. sugar
* 2 tsp. vanilla extract
* 1 egg
* 1/2 c. California raisins, chopped fine
* 48 perfect slices natural almonds (about 1/4 c. sliced)
* 3 oz. semisweet chocolate mini chips
* 4 black licorice laces (each about 30 in. long)
1. Measure flour and salt into small bowl, and whisk together; set aside.
2. In another bowl with electric mixer, beat butter on medium-high until creamy, about 2 min. Add sugar, gradually, beating until mixture is pale and fluffy, about 3 min. Beat in vanilla and egg, separately. Reduce speed to low, add flour mixture, one-third at a time, beating after each addition until well blended.
3. Then, knead or stir in chopped raisins. Divide dough into 2 equal pieces, shape into flat disks, and wrap separately in plastic wrap. Chill for 2 hr.
2. Then, preheat oven to 350°F. Line baking sheets with parchment paper and set aside. To make 24 mice, for each one, shape 1 Tbsp. dough into an oval ball and shape to make nose and eye sockets. Gently press 1 mini chocolate chip into each eye socket and press 1 almond slice into dough on either side behind eyes for ears. Arrange on parchment-lined baking sheets, about 2 in. apart.
3. Bake at 350°F until light golden brown, about 15-20 min. Remove from baking sheet and cool slightly. Divide each licorice lace into 6 pieces about 5 in. long. Then, with a skewer, make a hole about 1/2-in. deep into round end of each ball and insert piece of licorice lace for tails. Set aside to cool on rack. Store in airtight container.

* Visit www.loveyourraisins.com/recipes/ for more raisin recipes!
Calories: 190;
Total Fat: 10g;
Saturated Fat: 6g;
Cholesterol: 30mg;
Total Carbs: 23g;
Fiber: 1g;
Sugar: 11g;
Protein: 2g;
Sodium: 55mg;
Potassium: 67mg;