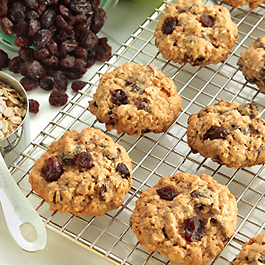 Courtesy of California Raisin Marketing Board
Servings: 24
Prep Time: 15 Min.
Cook Time: 15 Min.
* 1 c. all-purpose flour
* 1/2 tsp. salt
* 1 tsp. baking powder
* 2 tsp. ground cinnamon
* 2 Tbsp. unsalted butter, softened
* 1/2 c. white granulated sugar
* 1/2 c. brown sugar
* 1 egg
* 1/4 c. unsweetened applesauce
* 2 tsp. vanilla extract
* 1-1/2 c. rolled oats
* 1-1/4 c. California raisins
1. Preheat oven to 350°F. Grease cookie sheets or line with parchment paper; set aside.
2. In small bowl, whisk flour, salt, baking powder and cinnamon together to mix well; set aside. In large mixing bowl, cream butter and sugars together until smooth; add egg, applesauce and vanilla, beating well after each addition. Stir in dry ingredients, a little at a time, beating after each addition. Then, mix in oats and raisins, just until combined. Do not over mix.
3. Drop by rounded tablespoonfuls, about 2-in. apart, onto prepared baking sheet and flatten with wet or floured fingers. Bake at 350°F for 10-14 min. just until lightly browned. Do not over bake. Remove to wire rack and cool completely. Store in airtight container.

* Visit www.loveyourraisins.com/recipes/ for more raisin recipes!
Calories: 110;
Total Fat: 2g;
Saturated Fat: 1g;
Cholesterol: 10mg;
Total Carbs: 21g;
Fiber: 1g;
Sugar: 13g;
Protein: 2g;