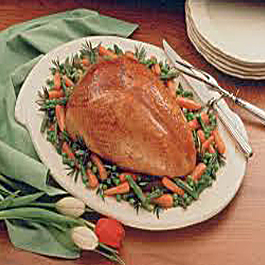 Courtesy of National Turkey Federation
Servings: 10
Prep Time: 5 Min.
Cook Time: 2 Hr.
* 1 4-6 lb. turkey breast, fresh or thawed
* 1/2 tsp. kosher salt
* 1/4 tsp. freshly ground black pepper
* 1/4 c. honey
* 2 Tbsp. Dijon-style mustard
1. Preheat oven to 325°F.
2. Season interior and exterior of turkey breast with salt and pepper.
3. In a 13x9x2-in. roasting pan, place turkey breast on a V-shaped rack. Roast, uncovered, in preheated oven for 1-1/4 to 2 hr. or until meat thermometer registers 165-170°F in the deepest part of breast.
4. Meanwhile, in a small bowl, combine honey and mustard. Brush glaze over breast during final 20 min. of cooking.
5. Remove from oven and allow turkey breast to stand for 10 min. before carving.

* Recipe Source: Recipe by The National Turkey Federation.
Calories: 190;
Total Fat: 1g;
Saturated Fat: 0g;
Cholesterol: 90mg;
Total Carbs: 8g;
Fiber: 0g;
Protein: 35g;
Sodium: 260mg;