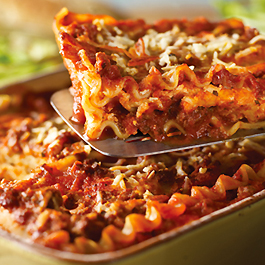 Courtesy of Campbell's® Kitchen
Servings: 12
Prep Time: 30 Min.
Cook Time: 30 Min.
* 3 c. ricotta cheese
* 12 oz. shredded mozzarella cheese (about 3 c.)
* 3/4 c. grated Parmesan cheese
* 2 eggs
* 1 lb. ground beef
* 1 jar (45 oz.) Prego® Three Cheese Italian Sauce
* 12 lasagna noodles, cooked and drained
1. Stir the ricotta cheese, mozzarella cheese, 1/2 c. Parmesan cheese and eggs in a medium bowl and set it aside.
2. In a 3-qt. saucepan over medium-high heat, cook the beef until it's well browned, stirring often to break up the meat. Pour off any fat. Stir the sauce in the saucepan.
3. Spoon 1 c. meat mixture in each of two 2-qt. shallow baking dishes. Top each with 2 lasagna noodles and about 1-1/4 c. cheese mixture. Repeat the layers. Top with the remaining 2 lasagna noodles, remaining meat mixture and the Parmesan cheese.
4. Bake at 400°F for 30 min. or it's until hot and bubbling. Let stand for 10 min.
Calories: 406;
Total Fat: 18g;
Saturated Fat: 9g;
Cholesterol: 102mg;
Total Carbs: 30g;
Fiber: 3g;
Protein: 30g;
Sodium: 709mg;