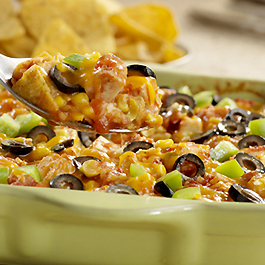 Courtesy of Campbell's® Kitchen
Servings: 4
Prep Time: 15 Min.
Cook Time: 40 Min.
* 1 c. coarsely crumbled tortilla chips
* 2 c. cubed cooked chicken or turkey
* 1 can (about 15-oz.) cream-style corn
* 3/4 c. Pace® Picante Sauce
* 1/2 c. sliced pitted ripe olives
* 2 oz. shredded cheddar cheese (about 1/2-c.)
* chopped green or red pepper
* tortilla chips
1. Layer the crumbled chips, chicken, corn and picante sauce in a 1-qt. casserole. Top with the olives and cheese.
2. Bake at 350°F. for 40 min. or until the mixture is hot and bubbling. Top with the pepper. Serve with the chips.

Calories: 337;
Total Fat: 14g;
Saturated Fat: 5g;
Cholesterol: 77mg;
Total Carbs: 30g;
Fiber: 4g;
Protein: 26g;
Sodium: 1004mg;