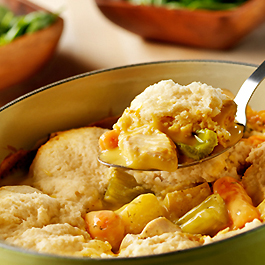 Courtesy of Campbell's® Kitchen
Servings: 8
Prep Time: 20 Min.
Cook Time: 7 Hr. 30 Min.
* 6 boneless skinless chicken breast halves (about 1-1/2 lb.), cut into 1-in. pieces
* 2 medium Yukon gold potatoes, cut into 1-in. pieces (about 2 c.)
* 2 c. baby-cut carrots
* 2 stalks celery, celery, sliced (about 1 c.)
* 2 cans (10-3/4 oz. ea.) Campbell's® Condensed Cream of Chicken Soup (Regular or 98% Fat Free)
* 1 c. water
* 1 tsp. dried thyme leaves
* 1/4 tsp. ground black pepper
* 2 c. biscuit baking mix
* 2/3 c. milk
1. Stir the chicken, potatoes, carrots and celery in a 6-qt. slow cooker.
2. Stir the soup, water, thyme and black pepper in a medium bowl. Pour the soup mixture over the chicken and vegetables.
3. Cover and cook on Low for 7 to 8 hr. or until the chicken is cooked through.
4. Stir the baking mix and milk in a medium bowl. Drop the batter by spoonfuls onto the chicken mixture. Increase the heat to High. Tilt the lid to vent and cook for 30 min. or until the dumplings are cooked in the center.
Calories: 348;
Total Fat: 12g;
Saturated Fat: 4g;
Cholesterol: 63mg;
Total Carbs: 34g;
Fiber: 4g;
Protein: 26g;
Sodium: 974mg;