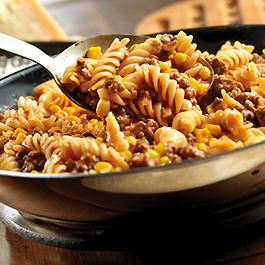 Courtesy of Campbell's® Kitchen
Servings: 6
Prep Time: 20 Min.
Cook Time: 20 Min.
* 3/4 lb. ground beef (85% lean)
* 1 small onion, chopped (about 1/4 c.)
* 1/2 tsp. Italian seasoning or dried oregano leaves, crushed
* 1 can (10-3/4 oz.) Campbell's® Condensed Tomato Soup (Regular or Healthy Request®)
* 1/4 c. water
* 1 c. frozen whole kernel corn
* 1/3 of a 1-lb. pkg. corkscrew-shaped pasta (rotini) (about 2-1/4 c.), cooked without salt and drained
* 1/4 c. grated Parmesan cheese
1. Cook the beef, onion and Italian seasoning in a 10-in. skillet over medium-high heat until the beef is well browned, stirring often to separate meat. Pour off any fat.
2. Stir the soup, water and corn in the skillet and heat to a boil. Reduce the heat to low. Cover and cook for 5 min. or until the corn is tender. Stir in the pasta and cook until the mixture is hot and bubbling. Sprinkle with the cheese.
Calories: 274;
Total Fat: 8g;
Saturated Fat: 3g;
Cholesterol: 37mg;
Total Carbs: 34g;
Fiber: 2g;
Protein: 17g;
Sodium: 304mg;